This New Tab is devoted to one of the greatest tennis players in history, Novak Djokovic.
Novak Djokovic is a professional tennis player from Belgrade, Serbia. He was born on May 22nd, 1987. He is currently ranked No.10 in men's singles tennis by the Association of Tennis Professionals (ATP).
He began playing tennis at the age of 4, and made pro debut at 16.
(When he first held a tennis racket.)
Awards
Djokovic has won 13 Grand Slam (major) titles, the fourth most in the Open Era. Djokovic is one of eight players to achieve the Career Grand Slam and he's the only one in tennis history to hold all four Grand Slams on three different surfaces at once. He has 30 ATP Masters titles, which is second most after Rafael Nadal, and he has won 5 World Tour Finals titles, four of which were won consecutively from 2012 to 2015 (record).
Named recipient of ATP World Tour No.1 Award in 2011-12 and 2014-15, Most Improved Player of the Year Award in 2006 and 2007 (voted by players) and Arthur Ashe Humanitarian Award in 2012 for Novak Djokovic Foundation and UNICEF ambassador work.
Named recipient of BBC Overseas Sports Personality of the Year Award in 2011, Laureus World Sportsman of the Year Award in 2012, 2015 and 2016; the Order of St. Sava in 2011, the Order of Karadorde's Star in 2012, the Order of the Republika Srpska in 2013 and Eurosport Athlete of the Year in 2015.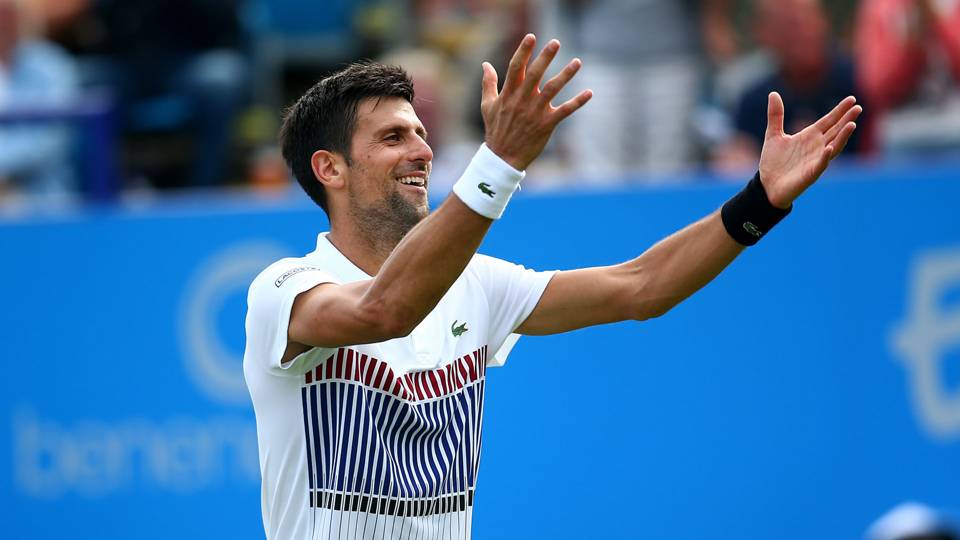 Djokovic is one of the four players to defeat Roger Federer three times in one year and one of only two players to beat both Roger Federer and Rafael Nadal in a Grand Slam in consecutive matches. He is the only player who has defeated both Federer and Nadal in the same tournament on 3 different occasions.
His estimated Net Worth is $175 million.
Did you know?
Novak is often made fun of because everytime he's at Wimbledon, he eats grass! And he says it tastes like sweat. He also talks to himself while playing.
We hope you enjoy your browsing experience. Feel free to share with friends.