High-quality Los Angeles Lakers wallpapers. Enjoy.
The Los Angeles Lakers are an American professional basketball team based in Los Angeles. The Lakers compete in the National Basketball Association (NBA), as a member of the league's Western Conference in the Pacific Division. The Lakers play their home games at Staples Center, an arena shared with the NBA's Los Angeles Clippers, the Los Angeles Sparks of the Women's National Basketball Association, and the Los Angeles Kings of the National Hockey League. The Lakers are one of the most successful teams in the history of the NBA, and have won 16 NBA championships, the second-most behind the Boston Celtics.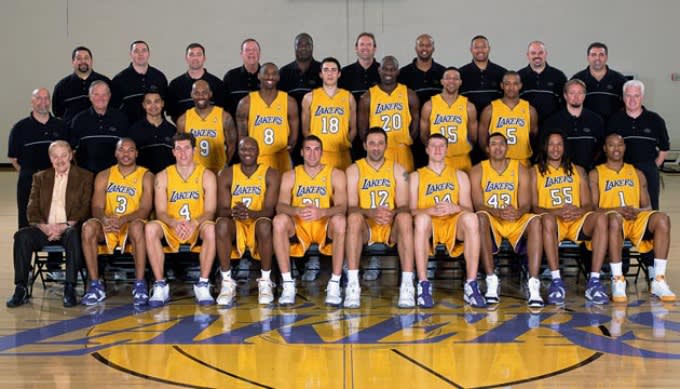 The best players in the history of the team are:
LeBron James. LeBron hasn't played a minute with the Lakers yet but he's probably the best player they've ever had and perhaps the best player to ever play the game. He's been to eight straight NBA Finals, winning three times, and has been the face of the NBA since making the jump straight from high school in 2003. The four-time NBA MVP has three NBA Finals MVP awards and has been an All-Star in all but one season (his rookie year) that he's played.
Kareem Abdul-Jabbar. The NBA's all-time leading scorer was an All-Star in 19 of the 20 years of his career. He won six NBA titles, including five with the Lakers, and was named NBA MVP six times. His patented sky hook was virtually unstoppable and it helped him lead the league in scoring two times.
Wilt Chamberlain. Chamberlain spent the final five years of his legendary career with the Lakers, where he won a title in 1973. The Hall of Famer led the league in scoring seven times, was named NBA MVP four times, and was top rebounder 13 times
Magic Johnson. Magic was the face of the Lakers and the NBA during much of the 1980s when he won five NBA titles and led the "Showtime" teams in legendary showdowns with Larry Bird and the Celtics. The Hall of Famer was a three-time NBA MVP and is regarded as one of the best point guards to ever play the game.
Shaquille O'Neal. Shaq joined the Lakers in the prime of his career and boy did he deliver, winning three straight titles during his eight-year run in L.A. He later added another championship with Dwyane Wade and the Miami Heat. Shaq, who was one of the most dominant centers of all time, led the league in scoring two times, was a 15-time All-Star, and won the NBA MVP award in 1999-2000.
We hope you enjoy your browsing experience. Feel free to share with friends.