Here's a new extension for all of you animated movie lovers. The newest extension is for the movie Hotel Transylvania 3: Summer vacation.
The viewers have given it a rating of 6.7/10 (about 4000 people voted).
Summer Vacation was originally scheduled for release on September 21, 2018, a date that was later moved up two months, to July 13, 2018.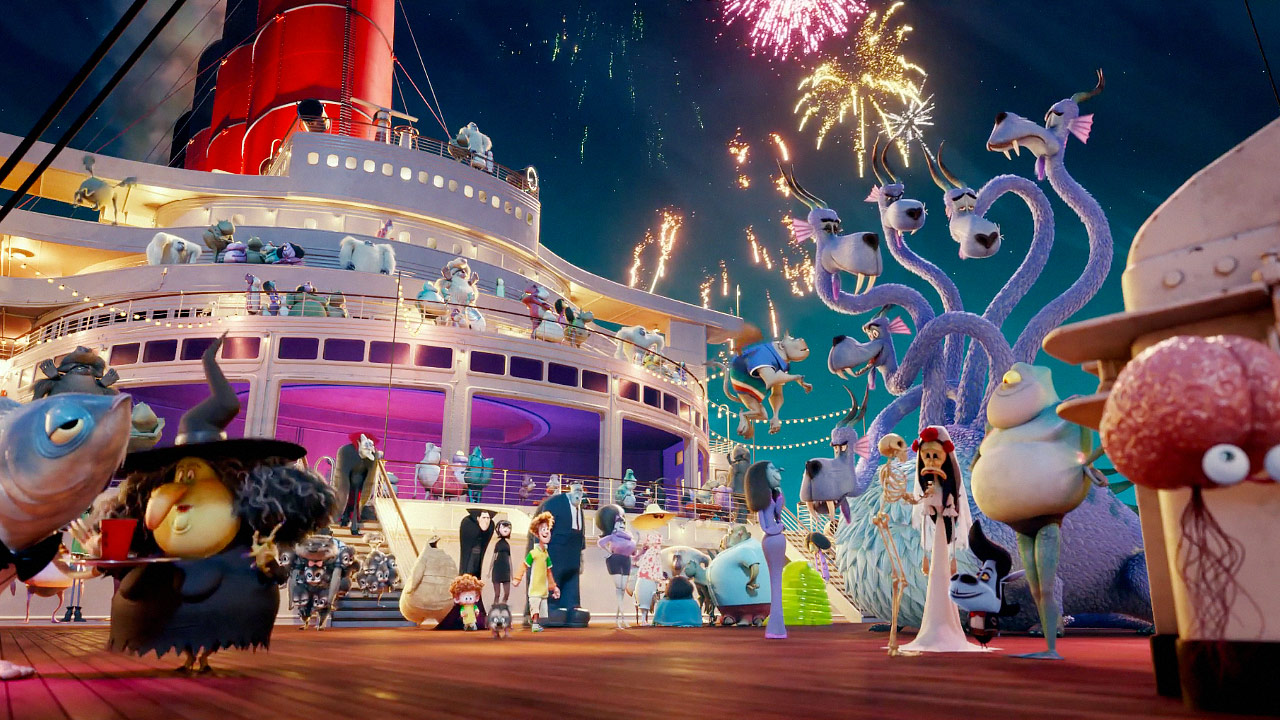 Plot:
The film begins in 1897, where Dracula (Adam Sandler) and his friends disguised as humans are travelling on a train to Budapest. Professor Abraham Van Helsing (Jim Gaffigan), a monster hunter, boards the train with his proton pack and unveils the monsters. The monsters escape by climbing through the roof of the train and jumping off. Van Helsing has a special interest in destroying Dracula, but is constantly outsmarted by him.
In the present day, a few months after the events of the previous film, Dracula is running his hotel business smoothly when his daughter, Mavis (Selena Gomez), announces that they will be going on a cruise so he can get a vacation from giving vacations and spend more time with his family. The next day, Dracula, Mavis, Johnny (Andy Samberg) and the rest of their family board a cruise ship called the Legacy. Dracula sees the ship's human captain, Ericka (Kathryn Hahn) and falls in love with her.
Ericka goes to a secret room on the lower decks, where she meets Abraham Van Helsing, who is revealed to be her great-grandfather and is almost completely mechanized to avoid death. Van Helsing has plans to eliminate all the monsters in the cruise upon it's arrival at the lost city of Atlantis, despite Ericka attempting to secretly assassinate Dracula beforehand. After failing to kill Dracula at an underwater volcano, Ericka moans about being unable to get a hold of him. Dracula's friends hear this, and thinking that Ericka likes Dracula, inform him about what they overheard. Dracula asks Ericka out on a date and they dine on a deserted island, where Ericka becomes infatuated with Dracula's charm.
Mavis finds out Dracula is interested in Ericka and becomes worried, due to suspicion of Ericka's motives. The tour reaches Atlantis, which has been converted into a casino. Dracula decides to tell Mavis the truth about his affections, but gets distracted upon seeing Ericka going into a crypt below the city. He follows her, with Mavis close behind, and discovers that Ericka is after an object that her great-grandfather told her to get in order to carry out his plans. With Dracula's constant help, she gets past the numerous booby traps around the object and escapes. Mavis arrives, and Dracula tells her that he is in love with Erica, but Ericka leaves Dracula, saying she can't be with a monster.
A depressed Ericka gives Van Helsing the object of destruction, and he proceeds to set a trap for them at a DJ party. Noticing that Dracula is still upset, Mavis advises her father to talk to Ericka. Suddenly, Van Helsing shows up and pushes away the DJ, and a saddened Ericka reveals she is his great-granddaughter. Van Helsing unveils his weapon, a case for a musical note sheet, and plays a song that drives a friendly Kraken that lives near the island to attack the monsters. Ericka announces her love to Dracula before saving him from the Kraken. In order to pacify the Kraken, Johnny opens up a portable DJ kit and starts playing positive songs to beat Van Helsing's song. Upon playing Macarena, the Kraken is relaxed and happy for good; Van Helsing is unable to counter the song as everyone begins to dance, including the music sheet (which shreds itself in the process).
Van Helsing ends up dancing too and accidentally slips and falls down to the sea, but is saved by Dracula. Touched by this act of kindness, Van Helsing apologizes and gives everyone a refund before sending them back. Later, back at Hotel Transylvania, Dracula proposes to Ericka, who agrees to marry him. (Source: Wikipedia)
Critics described it as "Hotel Transylvania 3: Summer Vacation delivers exactly what fans will expect – which means another 97 agreeably lightweight minutes of fast-paced gags and colorful animation".
Starring:
Adam Sandler
Selena Gomez
Kevin James
David Spade
Steve Buscemi
Keegan-Michael Key
Molly Shannon
Fran Drescher
Kathryn Hahn
Jim Gaffigan
Mel Brooks
We hope you enjoy your browsing experience. Feel free to share with friends.