Puppies are a universal sign of cuteness that every person in the world understands.
1. THE WORD PUPPY HAS FRENCH ROOTS.
Etymologists believe that the term puppy comes from poupeé, a French word meaning doll or toy. The word puppy doesn't appear in the English language until the late 16th century—before that, English-speakers called baby dogs whelps. William Shakespeare's King John is one of the earliest known works to use the term puppy-dog (the 1950's).
2. PUPPIES EVOLVED TO BE BLIND AND DEAF AT BIRTH.
Puppies are functionally blind and deaf at birth. On day one, their eyes are firmly shut and their ear canals closed. Why? In brief, it's part of an evolutionary trade-off. However, because dog embryos spend such a short time in the womb (only two months or so), puppies aren't born fully developed—and neither are their eyes or ears.
3. PUPPIES HAVE BABY TEETH, TOO.
Like many newborn mammals, puppies are born completely toothless. At 2 to 4 weeks of age, a puppy's 28 baby teeth will start to come in. Around 12 to 16 weeks old, those baby teeth fall out, and by the time pups are 6 months old, they should be sporting a set of 42 adult teeth.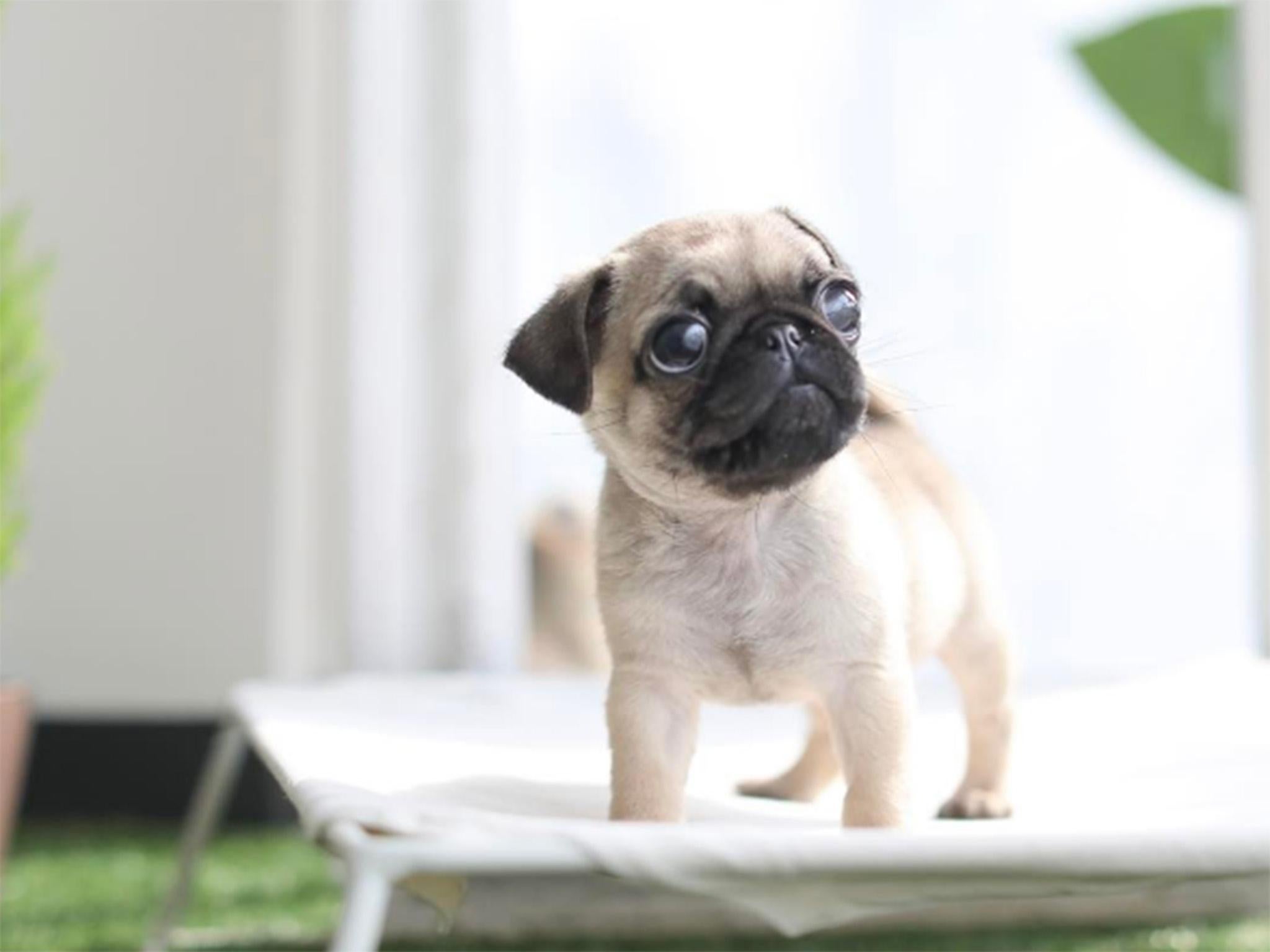 4. PUPPIES TAKE A LOT OF NAPS.
Like children, puppies need a lot of sleep—up to 15 to 20 hours of it a day. The American Kennel Club strongly advises dog owners to resist the urge to disturb napping puppies, because sleep is critical for a young canine's developing brain, muscles, and immune system. Puppy owners should also establish a designated sleeping space on their pup's behalf so they can snooze undisturbed.
5. CERTAIN BREEDS ARE USUALLY BORN BY C-SECTION.
Purebred dogs can exhibit some extreme bodily proportions, which doesn't always make for easy births. Breeds with atypically large heads are more likely to be born by C-section than those with smaller skulls.
6. SOME BREEDS HAVE BIGGER LITTERS THAN OTHER.
As a general rule, smaller breeds tend to have smaller litters, while bigger dogs give birth to more puppies. The biggest litter on record was born to a Neapolitan mastiff that gave birth via Caesarian section to a batch of 24 puppies in Cambridgeshire, UK in 2004. In rare cases, very small dogs do give birth to relatively large litters, though. In 2011, a Chihuahua living in the English town of Carlisle gave birth to a whopping 10 puppies—twice as many as expected. Each weighed less than 2.5 ounces.
7. SOME PUPPIES ARE BORN GREEN.
Sometimes, a puppy in a light-colored litter can be born green. On two different occasions in 2017, in fact, British dogs made the news for giving birth to green-tinted puppies. In rare cases, the fur of a light-haired puppy can get stained by biliverdin, a green pigment found in dog placentas. It's not permanent, though. The green hue gradually disappears over the course of a few weeks.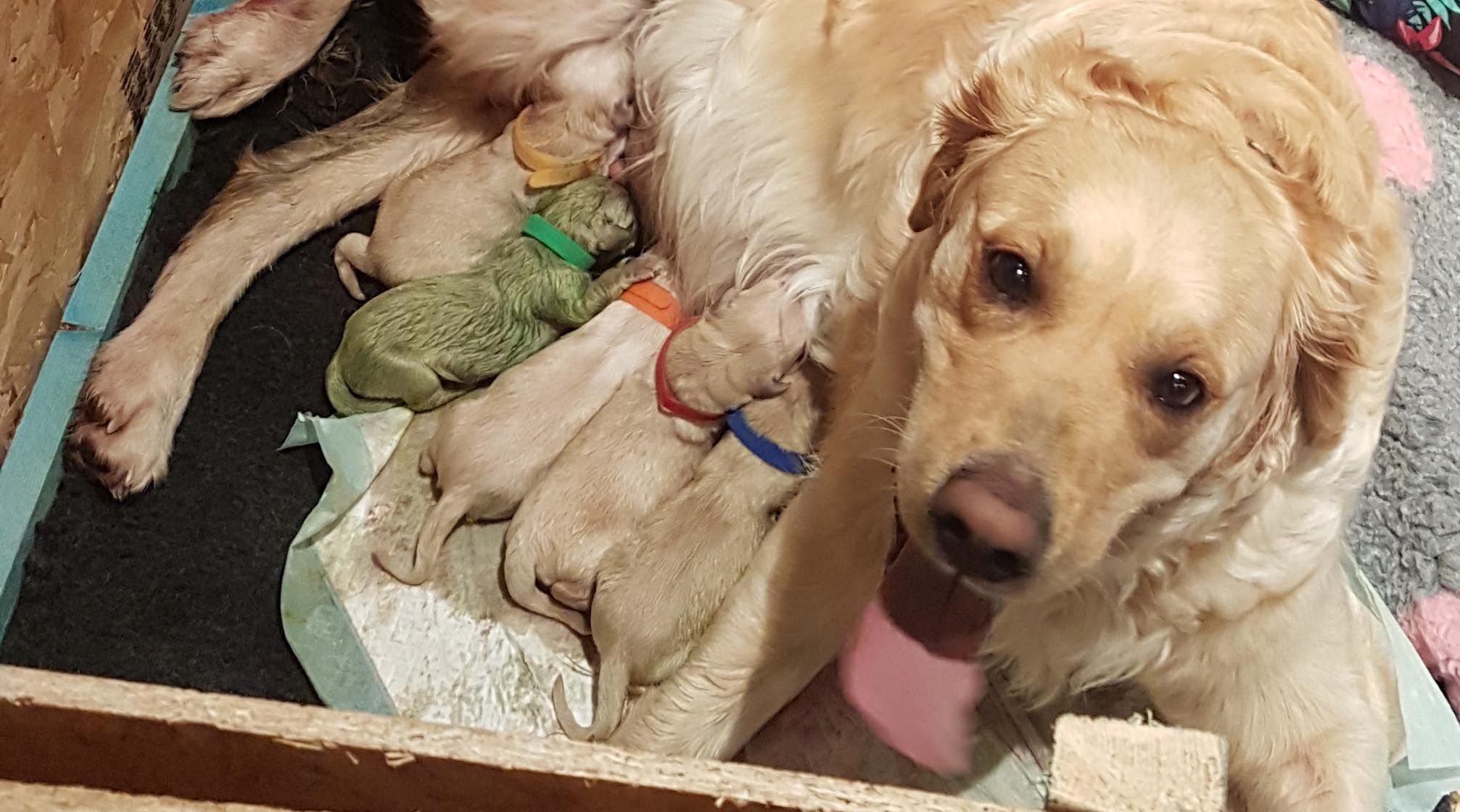 8. PUPPIES DON'T FIND YOUR YAWNS CONTAGIOUS.
Ever notice that when somebody yawns, other people may follow suit? Contagious yawning, thought to be a sign of empathy, affects humans, baboons, chimps, and yes, dogs.
9. PUPPIES LIKE "BABY TALK" MORE THAN THEIR PARENTS DO.
Like humans, puppies seem to grow out of baby talk, recent research has found. As part of a 2017 study, 30 women were asked to look at assorted photographs of people and dogs and utter this pre-written line: "Hi! Hello cutie! Who's a good boy? Come here! Good boy! Yes! Come here sweetie pie! What a good boy!" To the surprise of no one, the human test subjects spoke in a higher register while looking at dog pictures, especially puppy photos. Afterward, the researchers played the recordings for 10 adult pooches and 10 puppies. Almost all of the pups started barking and running toward the speaker when they heard the baby-talk recordings. In contrast, the grown dogs pretty much ignored the recordings altogether.
10. DALMATIAN PUPPIES ARE BORN SPOT-LESS.
Beloved by firefighters, Disney fans, and George Washington, Dalmatians arguably have the most recognizable coat of any dog breed. Or at least, full-grown Dalmatians do. As puppies, they're born white and spot-less. The markings usually begin to show up after four weeks or so.